The 4 Strategic Plans Your Association Needs to Survive and Thrive in 2021 and Beyond – Webinar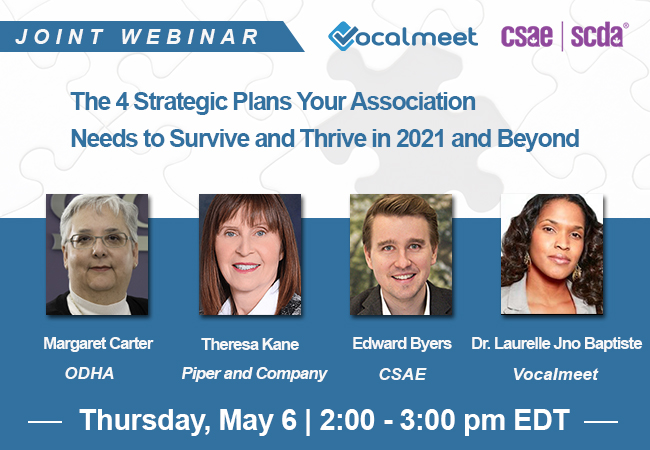 The COVID-19 pandemic has presented both challenges and new opportunities to us all. Some of these opportunities lie in the way we engage members, in the way we grow our non-dues revenue, and in the way we choose and streamline our technologies. That said, to act on these opportunities effectively, we also need to plan strategically.
Vocalmeet and the Canadian Society of Association Executives are hosting a webinar on Thursday, May 6, 2021, 2:00 pm – 3:00 pm EDT, to discuss strategies associations can adopt in 2021 and beyond.
We Will Cover:
• How to Leverage Transformational Changes for Success
• Cost-Saving Technology Approaches
• The Importance of Strategic Planning
• Increasing Member Engagement & Growing Non-dues Revenue
We Will Also Be Joined By:
Theresa Kane, President of Piper and Company
Margaret Carter, Executive Director of the Ontario Dental Hygienists Association (ODHA)
Edward Byers, Director of Membership & Business Development at the Canadian Society of Association Executives (CSAE)
Dr. Laurelle Jno Baptiste, Vice President of Professional Services at Vocalmeet
---
Meet Our Esteemed Panel of Association Leaders and Experts
---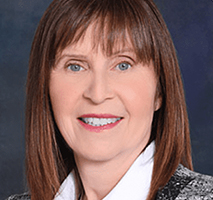 Theresa Kane
Piper and Company, President
---
Theresa Kane brings a business background and a thorough understanding of not-for-profit structures and processes to Piper and Company's consulting work.
Theresa Kane conducts organizational reviews, creates and evaluates strategic plans, facilitates workshops, carries out qualitative research and incorporates the results of that research in new organizational goals.
Theresa is a graduate of the University of Guelph in Consumer Behaviour and the Richard Ivey School of Business at the University of Western Ontario, where she earned her MBA. Both York University and Ryerson University have invited her to join their faculties to teach undergraduate courses. Her teaching specialities include marketing and strategic planning.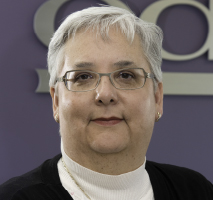 Margaret Carter
Ontario Dental Hygienists' Association (ODHA), Executive Director
---
As Executive Director, Margaret Carter has led the Ontario Dental Hygienists' Association for more than 18 years. She has overseen transformational changes that have positioned the Association to meet members' needs.
As a part of ODHA's mandate, Margaret leads the Association's advocacy for legislative changes to the dental hygiene profession. Under her leadership, ODHA's work has led to new regulations that advance dental hygienists' interests and needs in Ontario.
Margaret has also accelerated the digital transformation of the ODHA. As Executive Director, she has championed numerous digital initiatives that have streamlined ODHA's member experience and significantly reduced administrative work for her staff.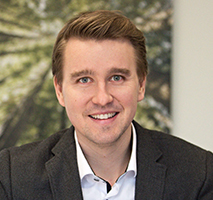 Edward Byers
The Canadian Society of Association Executives (CSAE), Director of Membership & Business Development
---
A strategic thinker, motivator, and change agent, Ed has 15 years of experience in the not-for-profit sector. Ed has worked for organizations such as Vancouver 2010, London 2012, Special Olympics, The Real Property Association of Canada (REALPAC) and CSAE.
He has delivered over 5M of new non-dues revenue to associations through items like corporate partnership, affinity programs, and the creation of new education and events. Ed has volunteered with organizations like MPI and PCMA, and he currently sits on the board of Wheelchair Basketball Canada.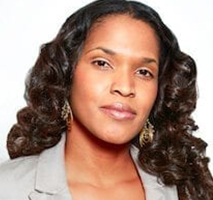 Dr. Laurelle Jno Baptiste
Vocalmeet,Vice President of Professional Services
---
Dr. Laurelle Jno Baptiste is the Vice President of Professional Services at Vocalmeet. She has over 12 years of senior leadership experience helping organizations implement e-learning courses and technology platforms.
Dr. Jno Baptiste has spearheaded the development of hundreds of technology platforms and continues to guide organizations as they navigate the digital age. She has vast knowledge of the Continuing Education sector coupled with extensive experience working with associations to build and launch online Continuing Education (CE) platforms.
In addition, she is a leading consultant on Agile project management and uses Agile practices to successfully deliver technology projects on time and on budget. She is a university lecturer, sought-after speaker, accomplished writer, and a skilled consultant on digital technologies and Agile practices.
Dr. Jno Baptiste has won awards for innovation and technology and serves as an advisor to various post-secondary programs. She holds a bachelor's degree in Computer Science, an MA, and a Doctorate in Education.