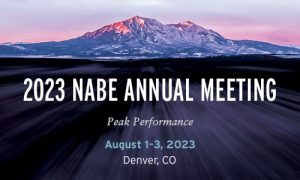 Vocalmeet – Proud Sponsor of NABE's 2023 Annual Meeting
Just last week, Vocalmeet's own Dr. Laurelle Jno Baptiste and Marcus Thraen attended NABE's (the National Association of Bar Executives') 2023 Annual Meeting, "Peak Performance". This insightful event ran from August 1 to August 3, 2023 in Denver, Colorado.
It was a pleasure to see everyone at the Happy Hour Reception, Networking Lunch, and–of course!–on the exhibition floor. A lucky winner even scored our Bose SoundLink Micro Bluetooth® Speaker!
"It was an amazing opportunity," said Dr. Jno Baptiste. "We were thrilled to get a chance to meet everyone in person–and we never pass up the chance to chat about the future of online CLE!"
Thank you to everyone who attended–we hope to see you at the next event!