Webinar Recap: 5 Powerful Growth Strategies to Boost Non-Dues Revenue for Your Association in 2022 and Beyond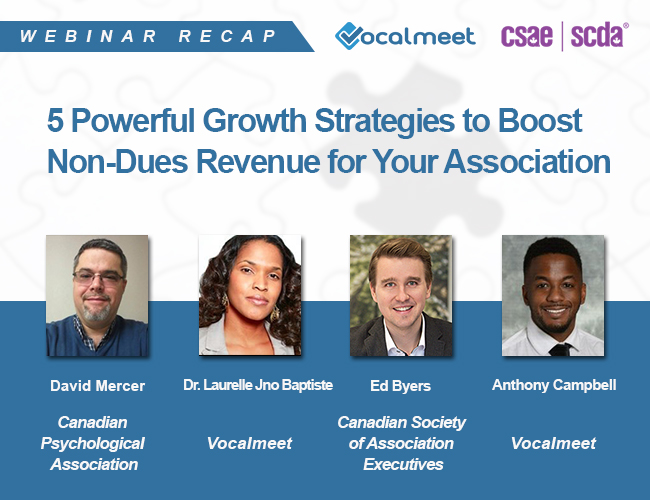 Whether you missed the original livestream or want to watch it again, you're in luck! Vocalmeet, the CPA (Canadian Psychological Association), and the CSAE (Canadian Society of Association Executives) partnered to bring you a fantastic discussion on growth strategies for associations in 2022 and beyond—a discussion you can catch online now!
Meanwhile, in this webinar recap, we'll explore the 5 powerful growth strategies that were shared during the livestream conversation. Join us as we discover the strategies other association leaders use to maximize their ability to generate non-dues revenue for their organizations!
1. The Benefits of On-Demand CE Courses
Does your association hold live sessions? Do you livestream continuing education courses and workshops? Well, you're in luck; you can record these streams and transform them into continuing education (CE) courses. Your association gets more courses to package and sell, and your members get access to new, premium content–everyone benefits!
That's not all; you can also use previously recorded courses to create something fresh and new. By re-editing and updating your older courses, you can offer your members improved, modernized content. Consider packaging it with new courses for extra value!
2. Cost-Effective Marketing Tools and Promotion
When it comes to earning more revenue, your members and the public need to know about the benefits and programs your association offers. Thankfully, there are plenty of economical assets at your disposal. In our discussion, Anthony Campbell, Growth Manager at Vocalmeet shared a few cost-effective marketing and promotion tools that will help your association do more with less;
3. The Importance of the Strategic Plan
Having a clear strategic plan is important for any organization. Your strategic plan should outline the association's priorities and how you plan to achieve them. This is essential in order for the organization to thrive and grow in a competitive environment. Will your staff be able to facilitate and manage your new priorities? Will your current budget allow you to build and support new programs? The key to successfully implementing your strategic plan is to avoid it from turning into your operational plan. Your strategic plan is designed to help you achieve your goals and mission. Your operational plan helps you carry out the tasks needed to achieve your strategic plan's goals and mission.
4. Combined Dues and Non-Dues Revenue Initiatives
No one said dues and non-dues revenue streams had to be mutually exclusive! Try offering members free continuing education packages for early renewal. If you want to get even fancier, try creating membership packages based on what the member selects; you can run the gamut from low-cost, low benefits memberships all the way up to VIP premium memberships that include all the bells and whistles! The number of membership types and the perks they include is up to you.
5. Technology Consolidation
By consolidating your association's technology, you can actually improve its ease-of-use and its value. Remember to KISS: Keep It Simple, Silly! Simplification will reduce both complexity and costs while improving the efficacy of your tools.
That's not the only thing your association can condense, of course; consider having all of your technological needs filled by a single vendor! You'll build a better partnership, and you won't have to keep track of who covers what. One account, one vendor, one contact! Additionally, your vendor will become more invested in (and fond of!) your association–they may even be willing to go the extra mile for you as your business relationship develops. Better still, by sourcing all your technology from one vendor, you'll have fewer compatibility issues when it comes to expanding your tools (they know what you have and what connects to it, after all). Streamline your processes; go for a vendor that offers all in one!
Has your interest been piqued? By offering on-demand CE courses, marketing with economic tools and promotions, directing in a plan-focussed manner, creating varied membership packages, and unifying technology and vendors, your association will be able to boost its growth and increase its non-dues revenue!