Why Associations Should Use One Platform for On-Demand and Live Events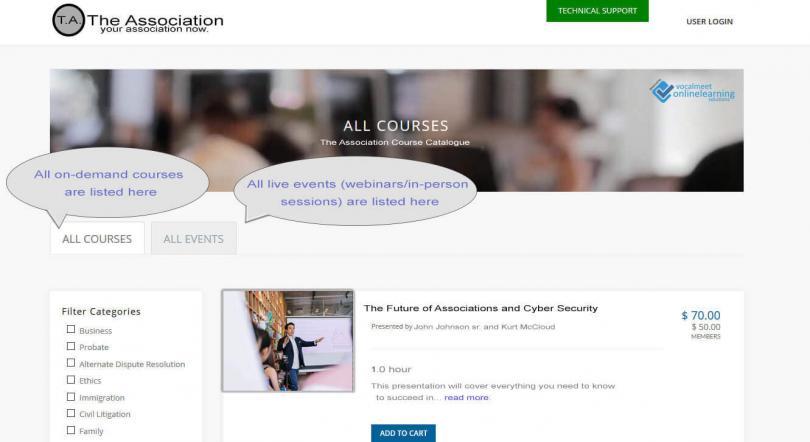 As more associations move their events online, and members become more comfortable with attending online sessions, the next step is for associations to focus on streamlining their online content. With only a handful of online sessions, associations could perhaps get away with posting one-off events on their website, while managing registrations and payments manually. However, with more events being offered online, associations should consider having an integrated learning management platform where members can register and access both on-demand recorded sessions and live online or in-person events.
The benefits of streamlining learning content are endless for associations. In fact, having an integrated learning management platform allows associations to better engage members and increase non-dues revenue, further setting associations up for success in the long-run as demand for online events continues to increase.
1. Ensuring a seamless user experience with one platform for on-demand and live events
Choosing the right online platform that is easy to navigate is as crucial as choosing the right venue for in-person events. Streamlining content with an integrated learning management platform means having a "one-stop-shop" for all learning sessions for members. Learning sessions can be delivered via on-demand recorded content, live webinar or webcast, and in-person events.
Additionally, having one platform to host on-demand and live events eliminates any confusion for members as they do not have to navigate through various event sites and platforms. Members can self-register, purchase, and view any of the sessions offered regardless of the delivery method. By making it easy for members to keep track of all their learning records under one system, they are more likely to keep coming back for more.
2. Monetizing content over the long-term
It is no surprise that the financial benefits of in-person events are singular and often marginal, as in-person events cannot be recreated once completed. However, with online content, associations can get a longer-lived value from the investment of time and money. For example, associations can continue to promote on-demand recorded sessions for as long as the content remains relevant, and members can access these sessions at any time. That said, be cautious of not falling into the trap of undervaluing online content, as members do see the value in convenience and not having additional expenses around travel, accommodation, and taking time off work.
Think of setting up an integrated learning management system as an investment, rather than as an expense. With the right list of programs and a solid marketing strategy in place, associations can continue to increase revenue as members are provided with incentives to keep coming back to purchase and view online sessions.
3. Gaining insight through automated reporting for associations
At the end of in-person events, associations typically evaluate the performance of the event and feedback from members. The approach for online sessions should not be any different. In fact, with one platform for both on-demand and live events, associations have access to automated reporting that shows all user activities completed on the system. This includes enrollment reports, transaction reports, attendance reports for live online sessions, and user progress reports for on-demand content. As all these reports are generated under one platform, associations can conduct an easy comparison and further gain insight into which delivery method (i.e. on-demand versus live) members prefer for the different types of learning sessions.
In conclusion, as associations start to establish a long-term online learning strategy for members, the importance of having streamlined content must not be overlooked. With an integrated learning management platform that hosts both on-demand and live events, associations and their members can easily keep track of all their learning sessions under one platform regardless of the delivery method. Such a robust platform allows associations to not only improve the online user experience, but also increase non-dues revenue as members value the ease of accessing learning sessions.